A Buss from

 Lafayette

Teacher's Guide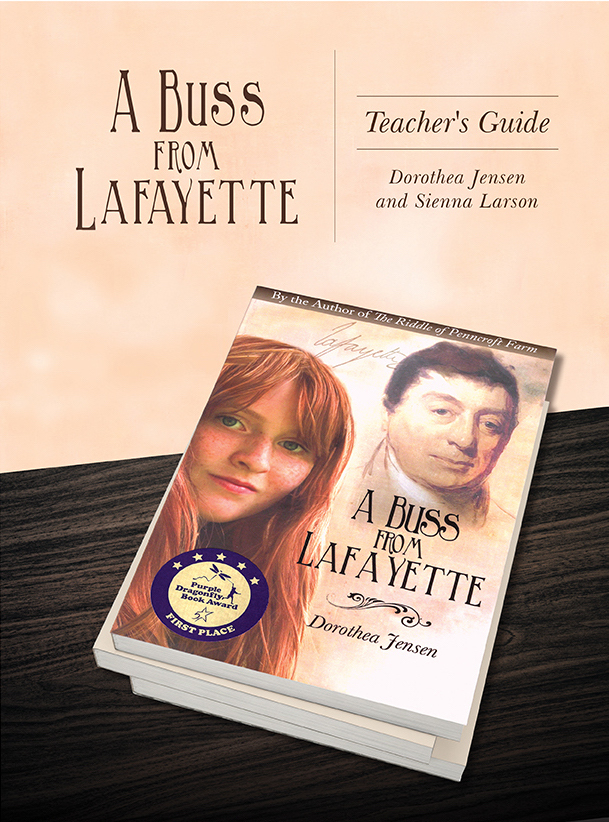 A Buss From Lafayette Teacher's Guide will be available from major online retailers (and orderable from any bookstore) through the Past Times Press imprint. As a result, the price for this complete guide for using my award-winning historical novel in the school or home classroom has come down.
As we start gearing up for the BICENTENNIAL CELEBRATION of Major General Lafayette's 1820s Farewell Tour of America, A Buss from Lafayette is the only historical novel set during his historic visit on the market for young adults and middle school readers The story illuminates this Revolutionary War hero's crucial role in our fight for independence.
ABOUT THIS BOOK
This guide is for A Buss From Lafayette, Dorothea Jensen's award-winning historical novel for young readers. It contains bulletin board ideas, vocabulary exercises, varied student handouts, puzzles, games, reading comprehension quizzes, discussion questions, and both individual and class projects. A full answer key is provided.
Its cross-curricular activities include language arts/reading, social studies, mathematics, health/safety, art, music, dance, drama, recipes, and suggestions for real and virtual field trips.
The main topics covered are the American Revolution, Lafayette's role in our War of Independence, Lafayette's Farewell Tour of America in 1824-5, and everyday life and customs in rural America in the 1820s.
Follow this link for the page with video and audio recordings pertaining to A Buss from Lafayette.
Questions that Challenge

Higher Level Thinking
"This teacher's guide gives many wonderful suggestions of how to integrate subjects with the historical content of A Buss From Lafayette, and suggests questions that challenge higher level thinking." —Susan Elliott, Ph.D., Associate Professor, Quinnipiac University Literacy and Curriculum Development.
A Great Resource for a Unit Study

of the Revolutionary War
This is a great resource for a unit study of the revolutionary war. It includes a wide variety of activities in language arts, American history, mathematics and the arts. I really appreciate an organized and comprehensive study guide like this! 5 Stars—B. Heikkinen, Homeschool Mom
Any Middle School Teacher would

 Love to Use
"A fantastic document any middle school teacher would love to use while expanding on the many aspects of this fiction/non-fiction youth book!"
— Gene Glover, Middle School Teacher and Principal
Great for a Variety of Students!
This guide provides hours of helpful, inventive and appealing ideas for readers at different levels to understand better and appreciate the relationships and historical context of the novel. My ESL students enjoyed the playful and challenging games which added detail and insight to their reading.Well worth it, a guide with a practical difference! 5 Stars —G.R.A. Amazon Review